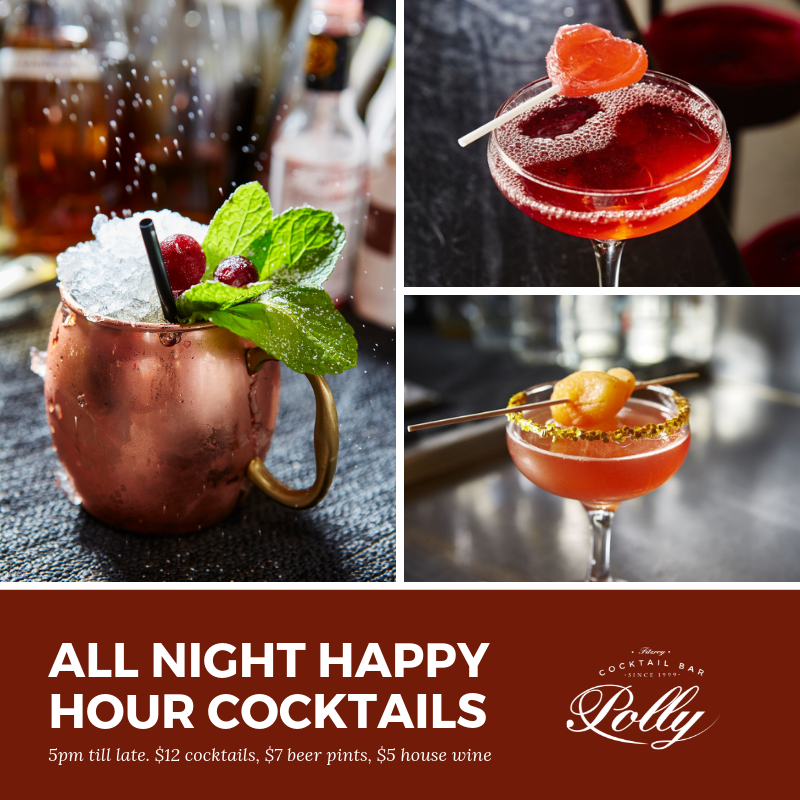 All Night Happy Hour Cocktails – 24th March 2019
Don't forget that Polly has your hump day sorted with happy hour cocktails all night – that includes 3 featured cocktails for only $12 each, $5 house wines and $7 pints craft beer.
Our current featured cocktails are –
DEW-LIP
Pronounced joo-lip, this seasonal fruity take on a classic Mint Julep cocktail will have you dreaming of a hot Kentucky summer, or a tumultuous Melbourne one at least! Luscious notes of Licorice tea and Mint sing with Old Forester bourbon, Elderflower and Blackberry liqueur, served over crushed ice, topped with seasonal berries and a dusting of icing sugar. One to come back to again and again! [vegan]
VELVET GOLDMINE
Dedicated to putting the 'glam' back into 'rock', this little beauty starts with a hefty amount of Dewar's Scotch softened with delicate notes of a rose wine aperitif, apricot and clove. Finished with edible glitter for those wishing to relive the glory days. [vegan]
HAPPILY EVER AFTER
Vanilla vodka with raspberry liqueur & apple schnapps, cranberry juice & vanilla syrup. Fairy floss in a glass.
#happyhour #featuredcocktails #dew-lip #velvetgoldmine #happilyeverafter #humpday #cocktailsmelbourne #fitzroy #cocktails #$12cocktailsyesplease #vegan